Feature Overview
Cloudike for Business is a brandable (white label) Cloud Storage platform, targeted for on-premise dedicated deployment as a Corporate Dropbox.
The main target customers for Cloudike Enterprise are: Large enterprises requiring internal Dropbox substitute, with enhanced security, user management and
integration possibilities.
Cloudike's main differentiators:
Advanced UX dramatically reduce a learning curve

AD/LDAP integration

Auto Sync - If there's a change, Cloudike will update those changes from one device to all other connected devices

User management

Team management

Group management

Shared folders and files monitoring

Company-wide Advanced security policies

Automatic logout timers

Sharing perimeter(inside/outside of company)

Password-expiration policy

Company-wide Audit log

Company-wide Folders/Group workspaces

Automatic data migration from one user to another

Multi-tenancy (Multiple companies can be hosted by one installation)

Smartphone & Tablet client applications for Android and iOS

Scalability of all components

No dependence on third-party software requiring additional royalties
---
Product-level Feature Overview
Administrator features:
Company management

Company logo

Company name

Company domain

LDAP/AD server setup




Company Security Policies

Allow link sharing

Allow new team members to be invited by sharing folders

Allow users to create company folders

Allow limiting storage capacity by folders

Automatic logout timers

Enforce password change within a specified period of time

Allow using of previous passwords

Allow use mobile application

Require terms of use approval on first login/on each login

Set/Change a main admin/sub-admin




Team Management

Add a team member manually/via invites

Edit/Delete

Block/Unblock

Password reset/change

Set team member permissions for:

Print

Download

Allow PC client

User mobile Web/App

Use Watermark

Ip restruction

Set Quota Size, GB

Password reset/change

Filter by name, e-mail, status

Team member activity log




Group Management

Create/Rename/Delete a group

Set group permissions for

Print

Download

Allow PC client

User mobile Web/App

Use Watermark

Ip restriction




Company folders management & audit

Create/Remove company folder

Grant/Revoke company folder access

Allow users to create and manage company folders

Monitor activity




Shared folders and files management

List of shared files & folders by user

Deny access to shared resources

List of collaborators and perimeter types

List of shared resources owners




Company audit log
End-user features:
File browsing, metadata access

File upload, download

Real-time 2-way file sync (Cloudike RapidSync™)

Instant sync from Device to Cloud

Instant sync from Cloud to Device

Automatic sync conflict detection and resolution

Binary diff support, sync only file change not the whole file




Share folder and multi-user collaboration

Multiple users can share the same folder

Company shared folders, with easy to use access request/approve flow.




File versioning & undelete

Each file maintains a history of past versions

Deleted files can be recovered




Events log




Create public link to file or folder




Thumbnails - multi-resolution, photo and video files, documents

Previews - multi-resolution, photo and video files, documents

png, jpg, gif, mp4, avi, mkv etc.

xls, doc, ppt, xlsx, docx, pptx




Streaming of audio and video content

Device management

List of attached devices

Remote device logout




Manually set bandwidths

Offline access (favorites)

Access to file versions
Security :
Authentication via OAuth 2.0 or internal email-based

Active Directory/LDAP Authentication

Bulk CSV users import

Sharing perimeter policies

Fully encrypted HTTPs APIs

Support for Mounted Encoded Folders

Industry-standard AES-128 encryption
Platform Admin :
Monitoring :
---
PC Client features
Windows and MacOSX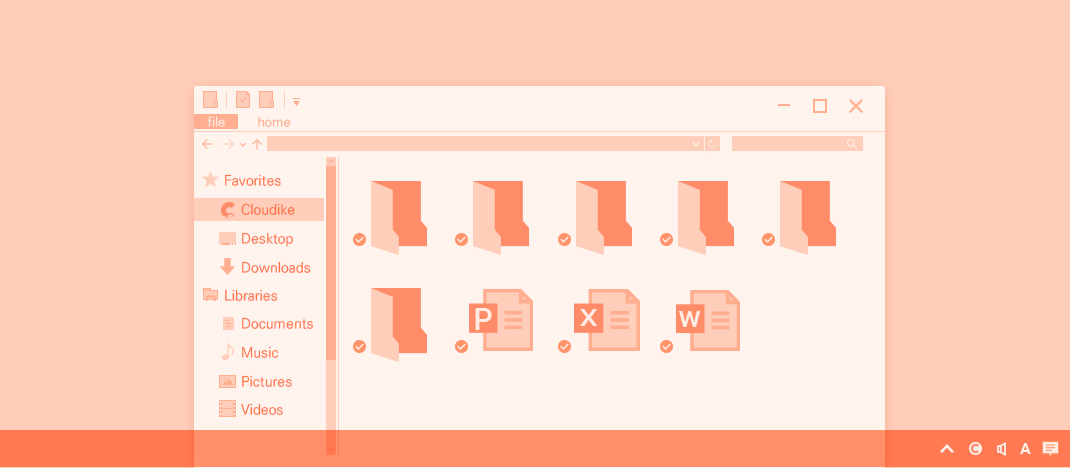 Compatibility : Windows XP+, MaxOSX 10.6+
Features :
Create local folder synchronized with the cloud

Real-time 2-way file sync (RapidSync™)

Instant reaction to local file updates and server file updates

Sync conflict detection and automatic resolution




Single-click Web integration




System tray icon and menu

Indication of Cloudike sync status in sync tray

Not connected

Paused

Sync in progress

Synced

Sync error

Operation available from system tray

Open sync folder

Open Web site

Pause application

View recent files

View storage used, Mb

Edit Setting

Report a problem

Logout

Quit




Automatic network status monitoring

Report connectivity status to user

Automatic recovery when network reappears




Deep integration with Explorer and Finder




Notifications




Autostart




Sync speed limit




Screenshots upload & sharing




Files are deleted to a trash bin

Selective Synchronization




Supprot for HTTP proxy

Mounted Encoded Folders Support



---
Mobile / Tablet Features
iPhone and Android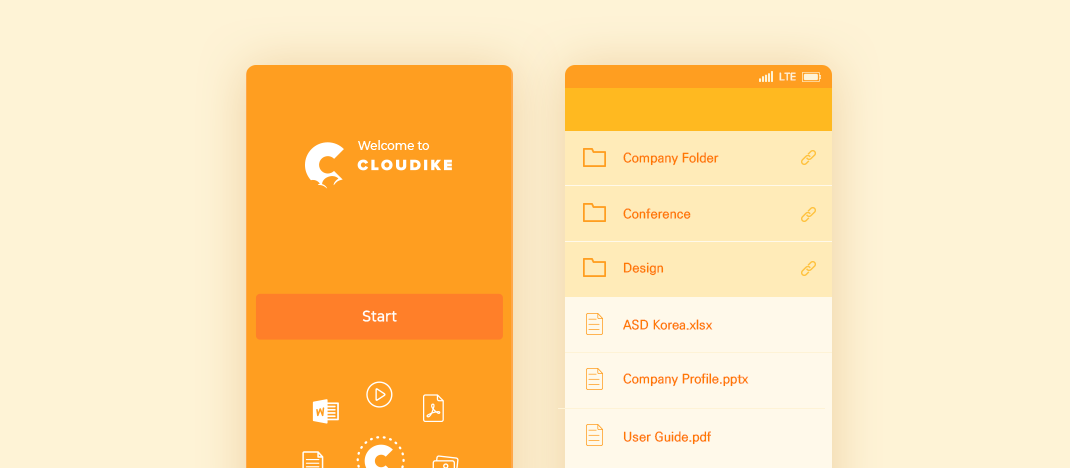 Compatibility : iOS 4++, Android 2.3+
Features :
Browse cloud storage

File list with thumbnails

Sorting modes : by name, by creation time, by modification time

Smart metadata caching for superior user experience

One-Click Refresh

New folder creation

Using File Search bar




Perform standard file operations

Delete, Rename, Move

Export, Save on SD card (Android only)

Save in library, Copy Print (iOS only)




Share file or folder to social networks




Open file in external application

Upload file to internal memory (Android only)

Download file




Offline access (iOS), Favorites (Android)

File and folder tree viewable when offline

Files marked as "Favorite" (Android) and Offline (iOS) are available for viewing offline




Edit and save to the Cloud




Single and bulk uploda of files, photoes and videos

File extensions :

png, jpg, gif, mp4, avi, mkv, etc.

xls, doc, ppt, xlxs, docx, pptx

Upload via Wifi-only or via 3G + Wifi (iOS)

Pause when battery charge is low

User can specify a sync folder location (PC client)




Photo and video roll view

Tile-based view for photos and videos sorted based on data of creation

Smart thumbnail and preview caching for fast browsing

Adaptive thumbnail resolution based on screen density




Gallery view

Pre-view photo and video files in full screen

Navigate easily via gestures

Conveniently invoke file operations via full screen




Account Management

View name

View memory storage used

Unlink the device from Cloudike (Android only)

Upload rules (iOS only)

Wifi only

Wifi + mobile internet

Clear cache (Android Only)

View App version

View Cache size (Android Only)

Send feedback

View Legal & privacy (Android Only)

Logout (iOS)
---
Web Interface Features
Dashboard & files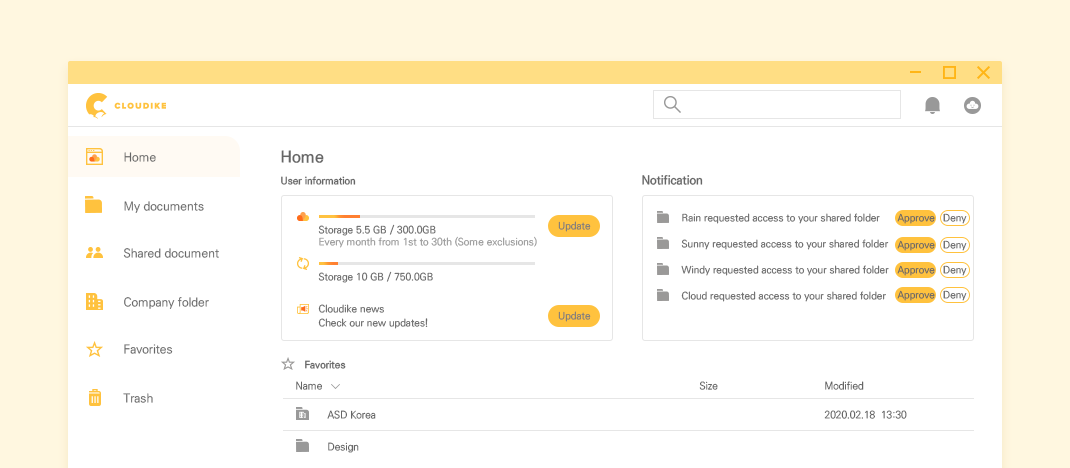 Compatibility IE8+, Chrome, Firefox, Opera, Safari, Mobile (generic HTML5)
Features:
Home Page

View User Information (Storage, Traffic, Cloudike news)

View recent notifications

View favorites




Browse file tree

Tile and list modes with thumbnails

Adjustable sorting criteria




File upload/download




Perform standard file operations

Delete, Rename, Move, Copy




Folder sharing and collaboration

Invite team members or a group to share folder with and collaborate jointly on files (read and write, read only)

Create company shared folders





Share file or folder with team members and to social networks




Allow users to set the following sharing options:

Expiration date

Password

Downloads limit (maximum number of downloads)

Download only link (for folders)

Upload only link (for folders)




Preview photos, videos, documents in full screen

Leave a comment to a file

View file details

View file versions history

Preview previous versions or download

Restore to a desired version




Download applications (Windows, Mac, Android, iOS)




Favorites




Trash
Management & log
Device management

List of attached devices

Remote device logout




Company management

Company logo

Company name

Company domain

LDAP/AD server setup




Company Security Policies

Allow link sharing

Allow new team members to be invited by sharing folders

Allow users to create company folders

Allow limiting storage capacity by folders

Automatic logout timers

Enforce password change within a specified period of time

Allow using of previous passwords

Allow use mobile application

Require terms of use approval on first login/on each login

Set/Change a main admin/sub-admin




Account management

Change name/e-mail/language

Enable/Disable notifications

Password reset/change

Add additional sign-in email

View device list

Enable/Disable WebDAV access

Unsubscribe from service, stating the reason:




Activity log

Team Management

Add a team member manually/via invites

Edit/Delete a team member

Block/Unblock

Password reset/change

Set permissions for:

Print

Download

Allow PC client

Use mobile Web/App

Use Watermark

IP restriction

Set Quota Size, GB

Password reset/change

Filter by name, e-mail, status

Team member activity log




Group Management

Create/Rename/Delete a group

Set group permissions for:

Print

Download

Allow PC client

Use mobile Web/App

Use Watermark

IP restriction




Company folders management & audit

Create/Remove company folder

Grant/Revoke company folder access

Allow users to create and manage company folders

Monitor activity




Shared folders and files management

List of shared files & folders by users

Deny access to shared resources

List of collaborators and perimeter types

List of shared resources owners




Company audit log



---
Security & Reliability Features
Cloudike is designed with security in mind.
Security:
End-to-end communication encryption

Industry-standard AES-128 encryption is used for all communication between server and client

Full eavesdropping protection




File upload / download encryption

No password storing on the device




Remote device disconnect & data wipe

Lost device can be disconnected from storage using web interface

All files can be deleted from the client device remotely




Security policies and perimeter setup

Sharing activity can be limited to company scope

All Shared files and folders are displayed in Company Administrator console

Auto logout policies

Password-expiration policy

Company-wide audit log with convenient filtering
Reliability:
Servers are duplicated for providing continuous service

Each user file is stored in a disaster-proof way: several copies, in two or more locations

Availability 99.9%, Durability 99.999999999%

~1 million times safer than laptop hard-drive

~10000 times safer than network-attached storage with replicated hard-drives
---
API Summary
Cloudike client software is built on top of REST API layer. API methods can be divided into 10 functional groups:
User Account Management Methods - User creation and management, basic & OAuth authorization, invitation management, tokens generation and so on

Basic Files and Folders methods - basic files and folders operations

Advanced Files, Folders and Metadata management methods - get, create, restore, diff handling, versioning, etc.

Extradata methods - methods for work with thumbnails, document preview etc.

Shared folders or files and public links methods - Methods for public links generation, handling and management, shared folders creation and management

Event & Notification methods - events and notifications for user

Client application specific methods - version queries etc.

User list management/Administrative tasks methods - accounts lookup, enable/disable etc.

Analytics methods - Key metrics query methods

Configuration KV-storage methods - Configuration R/W methods